You can send money with Xe on our website, over the phone, or in our app and the process should take just a few minutes using the following steps.
1. Sign up or sign in
Whether you're signing in or signing up, it'll be fast and simple.
You can sign up on our website or via our app. We recommend signing up to Xe via our app, which you can download by clicking one of the following buttons.
2. Let us know what you want to send
To begin the process of sending money to another country, we're going to need to know what you're sending, where you're sending it to, and how much you want to send. We'll prompt you to enter:
Your starting currency (what you have and want to exchange from)
Your recipient currency (what you want to exchange to)
The amount you want to send
Once you've provided this information, we'll give you the send rate for that pair of currencies.
3. Enter your recipient's details
It doesn't matter if you're sending money to your family, your university, or even yourself. We just need to know where you want to send your money.
You'll want to have the following ready to go:
4. Pay for your money transfer
There are a few ways that you can send us the money for your transfer.
Depending on which region your Xe account is in, we accept the following payments methods:
Credit or Debit Card
Bank transfer (including ACH, EFT, Bill Payment, PayID, BPay and Interac E-transfer)
Not sure how you want to pay? Read our article breaking down the differences between the payment methods. Once you know how you want to pay, enter your payment details.
If you choose bank / wire transfer we'll let you know our bank account information once you've confirmed your transfer.
5. Confirm your transfer
Before you hit "Confirm money transfer", you'll be taken to a page where you can review your transfer.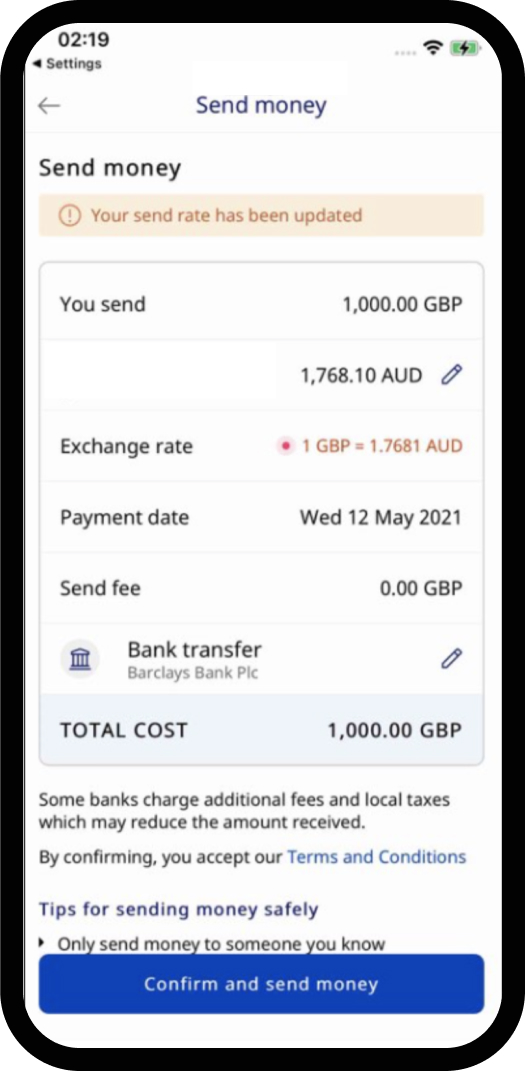 We recommend taking one last moment to look through the details to make sure that you're satisfied with everything. This includes:
Currencies
Send rate
Send fee (where applicable)
Recipient information
Timing (how soon the transfer will be sent)
Happy with everything? Go ahead and confirm your transfer. If you've decided to send us your money using bank / wire, you'll need to send your money to us.
After that, all you have to do is...
6. Track your transfer as it's sent to your recipient
Your job is done! From this point on, we'll take care of it.
We'll send you a confirmation after you've initiated your transfer and another once we've sent it.
If you want more information on your transfer status, you can track it online or in the app.